INTERACTIVE LEARNING SYSTEMS, INC.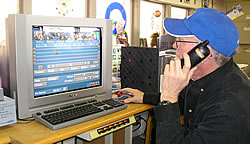 Interactive Learning Systems, Inc., is an authorized dealer for MacroSystem Us, Inc., and TecNec products. From our beginning, November 1983, the focus of Interactive Learning Systems has been on customer training and support.
Our highly successful Video Production and Editing Retreats held on our farm (recently listed on the National Register of Historic Places) in Hillsborough, N.C., provide our customers in-depth practical experience in the use of the Casablanca non-linear digital video editing systems.
Nels Anderson, Ph. D., is the instructor for the Video Production and Editing Retreats. Class schedules and participant evaluations are available. Call 1-800-221-6322. (We are a registered HUB Business, woman-owned small business).
Added-value services from Interactive Learning Systems, Inc., include:
FREE 2-day Video Production-Editing Retreat. One 2-day retreat is given for each unit purchased. ($395.00 value)
FREE USB PowerKey Keyboard with each unit
FREE telephone hotline for questions on equipment and/or software 1-800-221-6322
Customer Courtesy Discounts on additional software purchases
Customer Courtesy Discounts on any new workshops offered
On-site delivery, setup, and testing of equipment available
On-site consultation and evaluation of existing equipment

Interactive Learning Systems, Inc., is an authorized dealer for

MACROSYSTEM: Non-linear Digital Video Editors
In the video production/editing industry, MacroSystem products are distinguished by their ease of use. The proprietary user interface has been elegantly engineered to mask complexity and provides a consistent set of tools across all applications. The power of MacroSystem non-linear digital video editors is that they provide an editing environment that is easy to understand and FUN to USE without compromising functionality—a rare combination in technology applications!
TECNEC: Video Supplies
As TecNec dealers we have access to thousands of products from camcorders to cables, connectors, and lighting kits … all at very competitive prices. For a free, 240-page catalog, email us (nancya01@mindspring.com) or call 1-800-221-6322.
Special Educational Software and Site Licenses Available
We can also supply individual licenses as well as school district site licenses for special educational software, such as:
ScriptWerx
Inteliprompter Software
Inspiration
Kidspiration
PhotoPlus 10 Studio Pack
Call to discuss your school or school district needs: 1-800-221-6322.